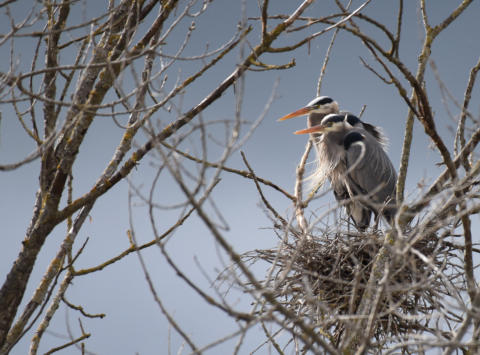 USING DSP TO EXPAND DYNAMIC RANGE AND
OTHER PERFORMANCE BARRIERS - AN IN-
DEPTH DISCUSSION
Warning - this is where it gets technical. The
Devil is in the details - and they are. I've done
my best to keep it simple, hopefully well
enough to get the points across. Quiz me by
email if you need clarification.
At first look most audio engineers understand
that DSP is a new way to execute the crossover
function; to divide the frequency bands
assigned to the various drivers. That's true,
but there's much more to it.
At this point I wish there was a way to prevent
other speaker designers from learning from
me what I have discovered during the past six
or seven years of working with DSP. But no,
that can't be done without also withholding
our ideas from our customers. At Meadowlark
we own a long-earned reputation for being
forthcoming and open. Let 'em steal. So
what? Here 'goes:
First let's understand the problems:
WHAT IS DYNAMIC RANGE? WHAT IS DYNAMIC
LINEARITY?
Dynamic Range, DR, is the difference between
the largest and smallest signal a system
responds to. For human hearing that envelope
is about 120dB, with OdB being the softest
audible sound and 120dB being the threshold
of pain. The scale is logarithmic, each 10dB =
ten times, so 120dB = 100,000,000,000. Also,
for us to perceive a sound to be twice as loud
as another, it must actually be four times as
loud. So the whole issue of apparent loudness
and dynamic range is an exponential function.
For most sane audio reproduction purposes an
upper limit is around 110dB. So, ideally, we'd
want our system to scale from 0 to 110dB
perfectly, without losses. Meaning that every
time the input signal doubles, the acoustic
output doubles

across the entire audio band,
20Hz to 20,000Hz.

In other words a 1:1 transfer
function across the band.
Here's a 3D graph showing Perfect Dynamic
Linearity: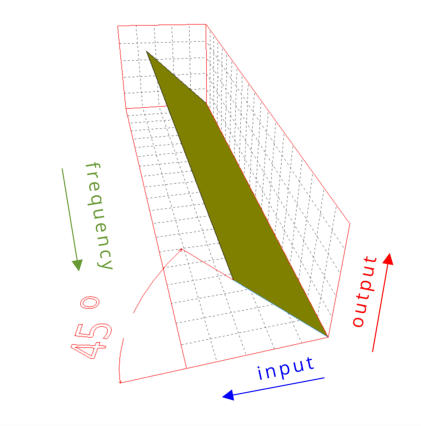 But, that's not what happens. Audio systems
come up short and usually in messy ways with
respect to frequency. This is nonlinear,
compressed DR. This is why stereos glare and
strain when you turn them up. Your system is
guilty: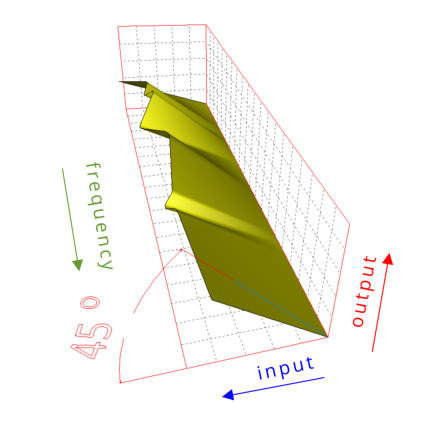 WHAT'S CAUSING THIS?
Ever notice that nobody talks about this?
Three reasons: they don't understand it or
they don't know what causes it or they do and
they don't know what to do about it.
The lion's share of the trouble occurs in the
woofer, so let's narrow our thoughts to that
for a while. Why would a woofer fail to give
you a 1:1 input:output transfer function? Most
do, but just for very small signals, then as the
signal ramps up the problem ramps up, and
quickly. Here's are the two big reasons:
1) Nonlinear motor force vs voice coil position.
Huh? Hang in there. When the voice coil is at
the center of its range of in-and-out motion,
the force created by the motor is at a peak.
Then, as it moves further in or further out that
force is sort of linear for a while, then falls off.
This is typical: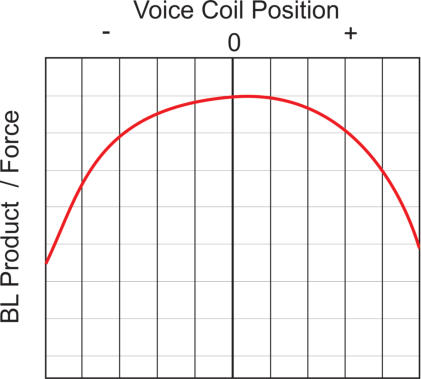 So, as you turn it up and excursion tries to
increase, it does but at less than a 1:1 ratio.
And - this is KEY - required excursion is an
inverse square function of frequency -
meaning that each time you half the
frequency, you quadruple the necessary
excursion to transduce the signal

at the same
amplitude.
So, when the music has bass,
especially deep bass, gobs of excursion are
required.
Another key idea: with respect to excursion,
the greater the

percentage of the time

the coil
is out of the 'sweet spot' the greater the loss of
Dynamic Linearity. The consequence is called
Dynamic Compression. This is why, when you
try to play bassy music loudly, the woofer can't
accommodate, the mids get congested while
the trebles do OK, causing the tonality to shift
toward hardness and glare.
Today, driven by the need to improve DR, the
top woofer makers are striving to get a more
linear result, one that looks more like this:
2) The second serious cause of Dynamic
Compression is voice coil heating. Sad fact:
heat generated is a square function of current.
And resistance to the flow of electrons
increases with temperature. So as coil
temperature rises, output falls, and fast.
Notice that every darn thing is a square
function working against us?
This is called Thermal Compression, and
today's top woofer makers are working hard
on this problem too. Effective strategies for
venting and heat dissipation are becoming
more and more important as a response to HD
Audio's demands. Note the heroic venting on
our Ibis woofer and midwoofer: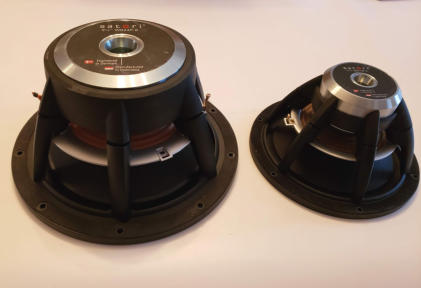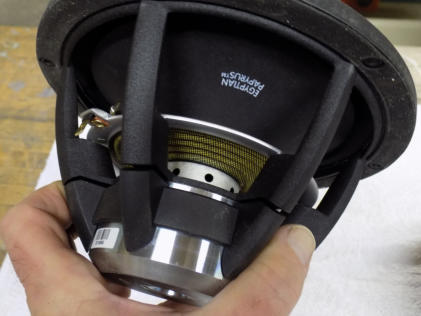 Of course, using multiple woofers both keeps
the temperature low and keeps the coils in the
sweet spot. Hence the dual woofers in Ibis and
Predator and the four woofers in out big
bottom octave systems.
OK, so all of this is about mechanical issues,
what does it have to do with DSP?
Key idea: all woofer systems exhibit a roll of at
the bottom of their range. For, say, a typical
bookshelf speaker it's not really doing much
work below 50 or 60Hz. The output curve looks
something like this: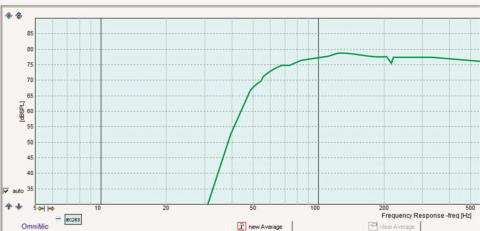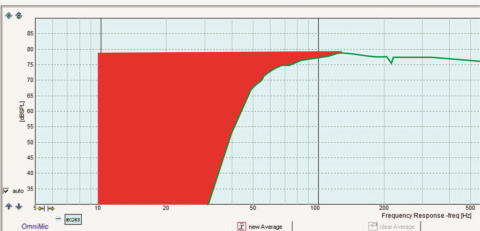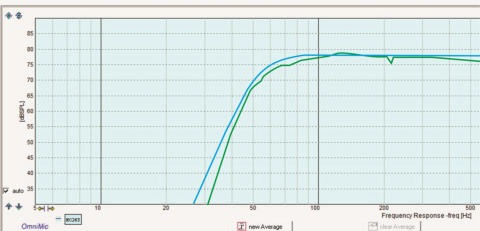 But your amp is still pushing in power into the region
below the rolloff. What is that power doing? It's not
making much sound but it IS excurding the coil AND
making plenty of heat. All hurt and no help.
Until now we've been stuck with that, but no
more, we can simply dial it out with DSP. The
blue line - called a 'high pass' filter. We simply
don't send any of that "red" power to the
woofer.
Now the coil excurds less, so it spends a
greater percentage of its time in the sweet
spot, plus it's staying much cooler. BANG! We
get an instant,

zero downside

improvement in
DR. Just me, this is the first "free lunch" I've
ever eaten!
The improvement is not subtle; one big jump
up in DR. Plus, now the system can play
louder than before because you're not banging
the stops, allthewhile maintaining it's
composure. Congestion and midrange blur on
complex and energetic music go away.
Smaller speakers can sound like bigger ones
and big ones can do amazing things.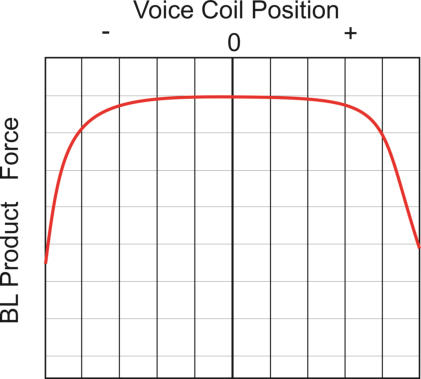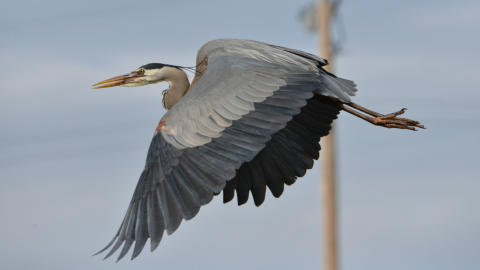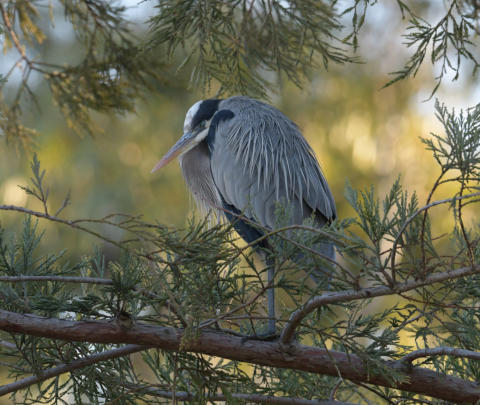 HOW DOES DSP CHANGE THE FUNDAMENTALS
OF BASS SYSTEM DESIGN?
This idea is a revolution in bass system design
that took me some time to discover.
Vented bass system design has always been a
compromise between two opposing goals - and
it's one of the most difficult for designers to do
well. You want extension down to as low a
frequency as possible

and

you want your
transducer to faithfully follow the signal, give
maximum resolution. But those two trade off
against each other. A vented alignment is a
resonant system; it achieves extension by
ringing. Ringing is bad because it is not part of
the input signal, the signal is smeared
forwards in time just as the strike of a bell
causes it to ring. So the engineering
unfortunately involves the "splitting of the
baby". Some ringing, just enough to get a full
bodied sound, but not so much as to sound
tubby and sloppy.
Here are the graphs. If the input signal starts
and stops and looks like this: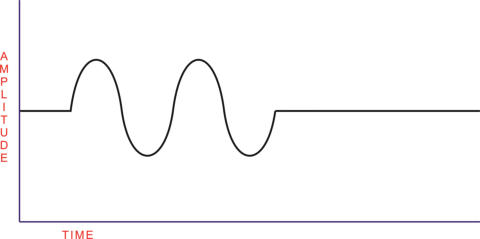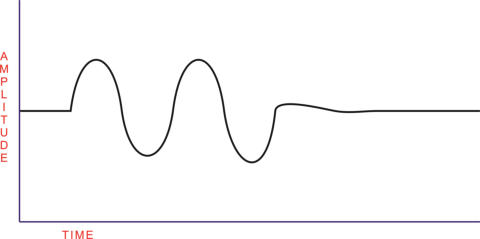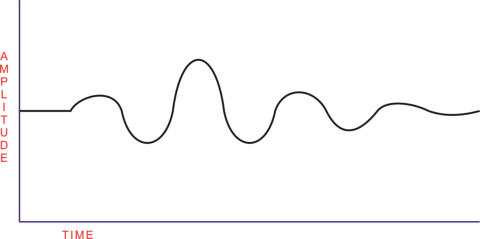 The inside joke is that you're getting all of the
bass you paid for, just a tad late. It's a
subjective choice, but just me, I designed my
conventional speakers a bit on the "tight" side
and have never regretted doing so.
Key idea: Now, finally, that painful
compromise is gone. Gone! Now we align each
woofer into an ideal sealed enclosure -
critically damped - meaning ideal signal
tracking, meaning best rise and settle times -
then we simply "buy" back sacrificed low bass
with the processor and more powerful amps.
The consequence is greatly improved
resolution in the bass. No more ringing and
smearing. Tight, fast, resolute.
You'd like your woofer to do something
like this:
But your vented alignment will actually
do this, slow to start, slow to stop.
Sloppy ringing: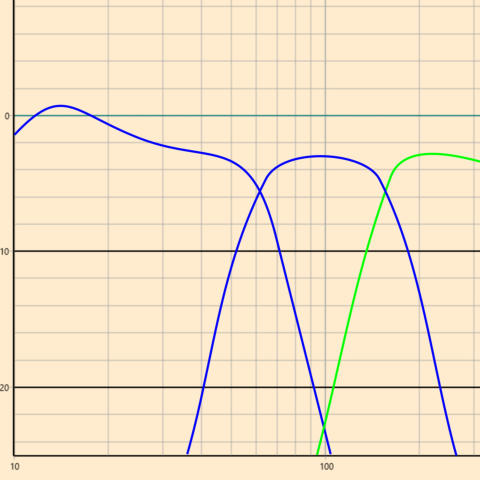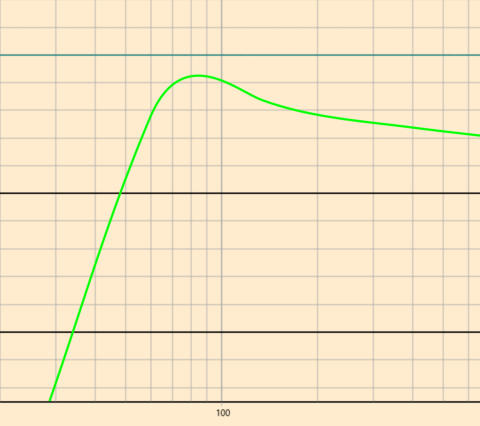 So we're using this two pronged strategy - a
high pass filter followed by boost - to make
three big beautiful gains in DR, resolution and
extension. I rest my case. When you hear the
result, you'll rest yours too.
THERE'S MORE. NOW WE CAN ACHIEVE A
WHOLE NEW LEVEL OF REALISTIC BASS SYSTEM
PERFORMANCE:
DUAL BAND BASS
Here's another remarkable step up we can
take with DSP. There's really no such thing as
a woofer that makes first-rate bottom octave,
20-40Hz, and makes first-rate mid and upper
bass. Those adverse square functions I
referred to earlier are just hard to overcome.
So, for a big-boy bass system, we'd like to use
specialized drivers. By now you can probably
guess that a passive crossovers is a non-
starter at these frequencies - very large value
parts that decouple the driver from the amp
so badly that the whole idea crumbles. But
with a Digital Signal Processor the problem
turns trivial. We merely apply gobs of power
to critically damped low and upper frequency
specific drivers, our trademark DUAL BAND
BASS.
The net result is woofers that are closely
tracking their signals AND doing an optimal
job of handling their comfortably narrow
assignment; the net result is bass that finally
sounds like the real thing. That "stereo
sound" in the bass is banished; bass detail and
timbre that you never knew was on your
favorite recordings will jump right out at you.
This advance is the single most delightful
thing I've achieved, it's just thigh-slapping-fun.
You should own it.
Too, I've noticed that some to whom I've
presented these ideas to are so attached to
traditional HiFi that they don't want to hear
any of it. Even though they know it's true.
I hope that's not you.
One final thought. I've designed our line so
that you can start with Kite, then each time
you take a step up you gain on every front
we've just discussed. So resolution, dynamics,
output and bandwidth all escalate at once. I
know of no other audio product line that can
make that statement. This is what 21st
Century High End audio will eventually look
like - we're just out ahead of the others.